He was my idol since i was the age of 5. My uncle introduce me his songs and i fall in love with it. Moreover i love his looks when he was young, so wild and dangerous. He is not an ordinary pop star. Many comes and go through the years, but he stood as the best pop star that i idolize.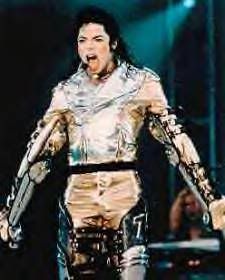 In case many of you didnt know, but he died. Yesterday. For those youngsters who didnt know him, he is the king of pop.
Michael Jackson, the sensationally gifted child star who rose to become the "King of Pop" and the biggest celebrity in the world only to fall from his throne in a freakish series of scandals, died Thursday. He was 50. Five of his solo studio albums have become some of the world's best-selling records: Off the Wall (1979), Thriller (1982), Bad (1987), Dangerous (1991) and HIStory (1995). Died of a cardiac arrest.
Jackson died at UCLA Medical Center in Los Angeles. His death brought a tragic end to a long, bizarre, sometimes farcical decline from his peak in the 1980s, when he was popular music's premier all-around performer, a uniter of black and white music who shattered the race barrier on MTV, dominated the charts and dazzled even more on stage.
He was perhaps the most exciting performer of his generation, known for his feverish, crotch-grabbing dance moves and his high-pitched voice punctuated with squeals and titters. His single sequined glove, tight, military-style jacket and aviator sunglasses were trademarks second only to his ever-changing, surgically altered appearance.
Jackson ranked alongside Elvis Presley and the Beatles as the biggest pop sensations of all time. In fact, he united two of music's biggest names when he was briefly married to Presley's daughter, Lisa Marie.
But as the years comes by, people tried to screw his life by making up stories like in 2005, he was cleared of charges he molested a 13-year-old cancer survivor at Neverland in 2003. He had been accused of plying the boy with alcohol and groping him. The case took a fearsome toll on his career and image, and he fell into serious financial trouble.
Let's therefore not focus on the tabloid stuff. The man did enough that we should remember him for the great groundbreaking talent that he was.
Rest in peace Micheal ...